Canal Boat Designs
Click here for details of equipment options.
One of the first decisions is whether you want a GRP river or canal cruiser, canal boat, narrowboat, barge or broad beam boat. All have pluses and minuses.

GRP river and canal cruisers are normally cheaper and most suitable for short trips on rivers.

Broad beam boats and barges offer more space being 10ft, 12ft or 14ft wide but can't access much of the UK canal network which was designed and built for the canalboat or narrowboat.

The most popular design therefore is the narrowboat, also known as a canal boat, canalboat and narrow boat, which is 6ft 10" wide and up to 70ft in length although to access every corner of the connected network you need to be less than 58ft in length. (These boats are frequently, incorrectly referred to as long boats and longboats.)
Narrow boats and narrowboats come in three stern (back end) types, Cruiser, Semi traditional and traditional. The choice of which is very much a personal thing.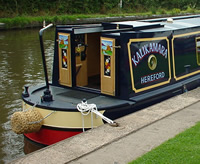 If you are unsure as to what length or stern might suit you, it is a good idea before you invest your hard earned cash, to hire a boat as close to the design as you can find so you can spend a few days living on it. If you take a tape measure, pen and paper, and make a note of all the things you like and dislike with their measurements which will help you make a more informed choice of boat design that's suits you and your life style.



Click here for information on hiring a canal boat.
Another alternative is to visit a boat broker with several boats and compare these although there is no substitute for actually spending time living on a boat.